Double / Double your ad impact with Two Sided Printing on our 2X Double-Sided Counter Mats. Give a different look and feel to your point-of-purchase display with a flip of the mat. They are extremely versatile and can be molded into a variety of shapes and sizes. Your artwork is printed on BOTH sides of the mat, doubling the value of your promotional dollars.
Double Sided Printed Countermats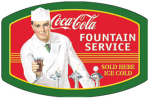 Made of durable, environmentally friendly polyethylene that will offer years of lasting service. May be placed on restaurant tables, countertops, or desk tops. Will not curl or fade with age. Great for event souvenirs and for promoting menu items. Our Decofoam Countermat is an economical alternative to the heavy duty natural rubber base. The foam base is non-skid and light on the pocket-book. Great display advertising for restaurants, pharmacies, drug stores, doctor offices, hospitals, and schools. Mats are water resistant so liquid spills are no problem. Two-Sided Printing Available!
Surface Options: Environmentally Friendly Polyethylene
Base Options: Environmentally Friendly Polyethylene
Size Options: 11 1/8" x 17 1/4" and Custom
Styles: Single-Sided Printing - Double-Sided Printing



DuraMats™ are suitable for all industrial outlets. They won't puncture when a heavy object is set on them. This style of mat has been used extensively in "Automotive after-market" stores with excellent results. Surface layer is scratch resistant vinyl that will not show scuffing or light scratches. It will maintain its original appearance longer that other materials. The backing is solid plastic back (can be used with low tack backing) which makes a very durable counter mat that holds up well under adverse conditions. Back is a 30 - 40 point white styrene. Double-sided printing available.
Surface Options: Scratch Resistant Textured Vinyl
Base Options: White Styrene - Adhesive
Size Options: Custom
Styles: Single-Sided Printing - Double-Sided Printing



PolyMats™ are made with high resolution printing on paper then laminated between two sheets of clear polyester sheeting. Your artwork can be printed on both sides of the single paper sheet, then laminated between two clear surface layers. An inexpensive and lightweight way to protect of your high-quality graphic and promote your product at the same time. Available in counter mat and mouse pad sizes.
Surface Options: Polyester
Base Options: 1/32" Thin Vinyl
Size Options: 10"x15" - 11"x17" - 12"x18" - 16"x21" - 17"x26" - Custom shapes and sizes available.