Fabric Surface Countermats
Polyester Fabric Surface Countermat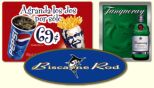 Roll Out The Carpet! Our huge Fabric-Top Point of Purchase Counter Mats and Desk Mats are like having a billboard at your cash register, with all the punch you need to maximize your message. Made from the same high-quality materials as our soft-top mousepads, so you know it will be a HUGE hit. Our Polyester Fabric Surface is a smooth cloth cover with a canvas-like feel and durability. Fabric Top Counter Mats offer an economical solution to countertop advertising where hard-top mats are not practical. Full color and a wide variety of base sizes make this mat a worthy contender. All fabric mats use our Heavy Duty Rubber Base material.
Surface Options: Polyester Fabric
Base Options: 1/8" Heavy Duty Rubber
Size Options: 10"x15" - 11"x17" - 12"x18" - 14"x19" - 16"x20" - Custom shapes and sizes available.