Quicklook Organizer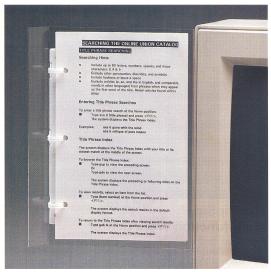 The QUICKLOOK Organizer is a convenient way to display essential information on cash registers and computer monitors. Put an end to unsightly sticky notes, tacky messages, and space consuming table displays. Keep essential reference information at your fingertips in one convenient, efficient, and attractive location. Holds up to 20 pages. Available in 5.5" x 8.5" size.
The unique three-ring holder design allows no-hassle organization and easy turning of pages. Using optional clear plastic page protectors, pages can be viewed from both sides. Reference sheets can be easily removed for convenient updating. Index tabs can be added for instant location of contents. With the enclosed adhesive strip, QUICKLOOK is so versatile it can be positioned on the left-side or right-side of any cash register screen or computer monitor.
Made from a durable light-weight space-age polymer, QUICKLOOK will provide years of quality service. Works great with our See-Thru Counter Mats. The counter mat that's also a document holder. Use your counter mat to display sales ads, store policies, legal information, promotional material, or photographs!
See also our Cash Register Monitor Toppers.

For discount pricing, contact us via email at sales@bettercountermats.com
Home | Get Samples | Order Now | Contact Us