Hard Vinyl Surface Countermat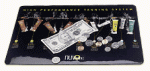 Our Hard Top Counter Mats combines the look and feel of Lexan® with the value of rigid vinyl creating an exceptional counter top surface. Pads can be custom printed on the under-side of the clear cover with company logos or promotional ads. Since your artwork is printed directly to the vinyl surface layer, there is no paper in the manufacturing process. You artwork is water-resistant and durable so it will provide months of reliable service.
Surface Options: Textured Vinyl
Base Options: 1/8" Heavy Duty Rubber - 1/16" Heavy Duty Rubber - 1/32" Thin Vinyl - 1/32" Adhesive Base
Size Options: 10"x15" - 11"x17" - 12"x18" - 16"x21" - 17"x26" - Custom shapes and sizes available.
Heavy Duty Rubber Base Countermats

For discount pricing, contact us via email at sales@bettercountermats.com
Home | Get Samples | Order Now | Contact Us