Counter Mats are the most effective point of sale advertising available. Our custom printed mats allow every customer to see your ad message every time they make a purchase. Great for retail stores, restaurants, auto parts stores, and beverage promotions. Available in a variety of shapes, sizes, and materials to meet any budget. The next time you go somewhere chances are you'll see Point-Of-Purchase counter mats. Take advantage of this promotional impact with our custom printed Counter Mats and discover your untapped sales opportunities! Our HEAVY DUTY counter mat product line includes Hard Vinyl Surface Mats, Sealed Edge, Molded Vinyl Bar Mats, hard plastic DuraMats™, and Recycled Countermats. Download our PDF e-Flyer&nbsp

HEAVY DUTY COUNTERMATS
Hard Vinyl Surface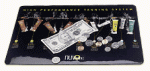 Our Hard Vinyl Surface combines the look and feel of Lexan® with the value of rigid vinyl creating an exceptional counter top surface. Pads can be custom printed on the under-side of the clear cover with company logos or promotional ads. Since your artwork is printed directly to the vinyl surface layer, there is no paper in the manufacturing process. You artwork is water-resistant and durable so it will provide months of reliable service.
Surface Options: Textured Vinyl
Base Options: 1/8" Heavy Duty Rubber - 1/16" Heavy Duty Rubber - 1/32" Thin Vinyl - 1/32" Adhesive Base
Size Options: 10"x15" - 11"x17" - 12"x18" - 16"x21" - 17"x26" - Custom shapes and sizes available.

Sealed Edge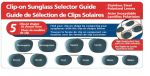 Sealed Edge Counter Mats are air-tight and waterproof. These mats work great in heavy traffic areas like automotive and hardware stores, heavy equipment shops, beverage dealers, and restaurants. The scratch resistant polyethylene surface can stand up to the toughest beating. We offer 3 choices of surface material - scratch resistant gloss finish that makes your colors pop without changing them (gloss is the more widely used because of this); satin finish which gives you a surface that is non-glare; and a lightly textured matte. We offer a rugged airtight and waterproof sealed edge to add durability and longevity on the counter. The edge seal is 1/8" outside your printed design area and comes in black, white, or RF seal. Sealed Edge Counter Mats offer the perfect balance between durability and value.
Surface Options: Vinyl
Base Options: Vinyl
Size Options: 8.25" x 11.5" standard. Custom sizes available.
Sealed Edge Options: RF Seal - RF Welded Edge
See Also: Thin Vinyl Mat With RF Sealed Edge


Bar Mats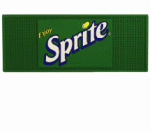 BAR MATS are an affordable way to captivate your target audience. Our new multi-colored, rubberized MOLDED VINYL COUNTERMATS are the most durable and water-proof countermats around. Product selection includes runner mats as long as 10 feet, Chang'ble Mats™ that allow the advertisement to be changed as needed, mats with multiple windows, and countermats that incorporate photo quality graphics. All MOLDED VINYL MATS are manufactured using a proprietary formula to produce a tough, rubberized vinyl with all the colors molded in... NOT painted or printed. And we can match virtually any color. Perfect for high-traffic waitress stands, restaurants, bars, beverage dispensing areas, gaming mats, pet stores, plumbing and industrial equipment stores, hardware stores, and anywhere a rugged, water-proof counter mat solution is needed.
Surface Options: Molded Vinyl Nibs: Elongated - Round - Ribbed - Custom Pattern
Base Options: Molded Vinyl
Size Options: 6"x15" - 11"x14" - 17"x22" - 21"x3.5" - Custom Sizes Available
Styles: Bar Mat - Counter Mat - Bar Rail Mat - Bar Runner - Beverage Mat - Beer Mat


Recycled Countermats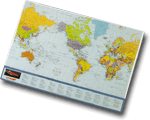 Our Eco-Friendly Recycled Countermats are covered with durable heavy duty vinyl and backed by non-skid recycled rubber. The base is 100% post-consumer recycled material, latex-free (contains SBR synthetic rubber), and 3/32" (2mm) in thickness. It is covered with a durable Vynex surface. The durable textured polymer surface protects your image while allowing it to POP in brilliant color and detail. For a colorful, durable, waterproof, green promotion, consider ReTreads™ counter mats. Our PET Soft Surface Counter Mat is a fabric top mat made out of recycled PET on a 50% recycled heavy-duty rubber base. PET stands for polyethylene terephthalate, a plastic commonly used in water bottles. We also offer our standard polyester fabric on a 50% recycled heavy-duty rubber base.
Surface Options: Heavy Duty Vinyl
Base Options: 3/32" Heavy Duty Recycled Rubber Base
Size Options: 10"x15" - 11"x17" - 12"x18" - 16"x21" - 17"x26" - Custom shapes and sizes available.