Eco-Friendly Recycled Countermats
Recycled Countermats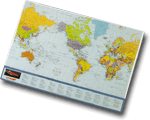 Our Eco-Friendly Recycled Countermats are covered with durable heavy duty vinyl and backed by non-skid recycled rubber. The base is 100% post-consumer recycled material, latex-free (contains SBR synthetic rubber), and 3/32" (2mm) in thickness. It is covered with a durable Vynex surface. The durable textured polymer surface protects your image while allowing it to POP in brilliant color and detail. For a colorful, durable, waterproof, green promotion, consider ReTreads™ counter mats. Our PET Soft Surface Counter Mat is a fabric top mat made out of recycled PET on a 50% recycled heavy-duty rubber base. PET stands for polyethylene terephthalate, a plastic commonly used in water bottles. We also offer our standard polyester fabric on a 50% recycled heavy-duty rubber base.
Surface Options: Heavy Duty Vinyl
Base Options: 3/32" Heavy Duty Recycled Rubber Base
Size Options: 10"x15" - 11"x17" - 12"x18" - 16"x21" - 17"x26" - Custom shapes and sizes available.